In The Media

The Gainesville Sun
Virus slows local housing market at busiest time of the year
When Alissa Voils purchased her home just west of Gainesville back in 2013, her family lived in Virginia and bought the property before even setting foot in town.
"We could end up doing the same thing now, just under very different circumstances, obviously," she said.
---
Forbes
The Cruise Vacation That Inspired This Leader to Get Serious About Culture
When a recently-divorced Betsy Pepine found herself suddenly single with two young daughters at home, she had a difficult decision to make: stay in the Northeast for her high-powered career in pharmaceuticals, or move back to Gainesville and be surrounded by family. She'd always been the breadwinner in the family, and there wasn't a pharmaceuticals industry in her hometown. At the same time, both sides of her extended family were in Gainesville, and if they moved back, her children could grow up surrounded by family.
---
Inc. 5000
Pepine Realty Earns Inc. 5000 Award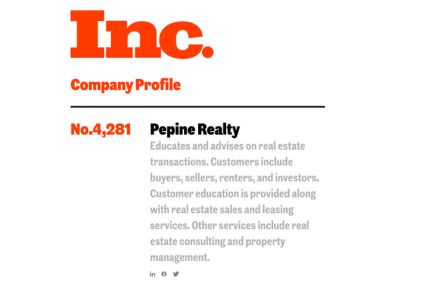 Pepine Realty educates and advises on real estate transactions. Customers include buyers, sellers, renters, and investors. Customer education is provided along with real estate sales and leasing services. Other services include real estate consulting and property management.
---
Barbara Corcoran
Barbara Corcoran Top Agents: Betsy Pepine
I moved to Gainesville in 1974 at the age of five. After graduating from high school, I left my beloved home town to pursue a business education at Duke University and a MBA in Marketing and Healthcare Management from The Wharton School of Business at the University of Pennsylvania. After a ten year marketing career in the pharmaceutical industry. I returned to Gainesville and pursued my interest in real estate. Having been a real estate investor for years, I turned my passion into a career by becoming a full-time Realtor. Within two years, I earned my Broker license and opened my own brokerage in 2010. With my background and expertise in marketing, in my first year, I sold almost $5 million in real estate and have since been consistently ranked in the top 1-2% of Realtors in sales in Gainesville.